Welcome to BookAmp
The newsletter for literary event organisers
Welcome to our first newsletter!
BookAmp is aimed at everyone involved in putting on author events whether in bookshops or at festivals. Organising literary talks can be rewarding but it also can feel a bit lonely - there is a community of us but we are spread far and wide across the country. BookAmp is an attempt to bring us a bit closer, highlight any interesting developments that touch upon our world and celebrate the achivement of our peers. Please get in touch and let us know if there is anything we should be covering. You can email us julian@bookamp.co.uk or mathew@bookamp.co.uk we would love to hear from you.
Please follow us on twitter here and on instagram here
The New Testament
After the incredible publicity that the publication of The Testaments received, Margaret Atwood is embarking on a six date tour organised by Fane Productions, the ambitious literary events wing of the agency Curtis Brown. Tickets range from £18-£37 and it looks like all the events will be sold out. I am not sure about the other venues but I know the Brighton Dome seats 1700 - the tour is a pretty impressive feat. The launch event at the National Theatre was broadcast in 1000 cinemas around the world. Fane Productions are also behind the forthcoming Armistead Maupin tour and Words Weekend, new festival at the Sage in Newcastle that launches this December. There are 60 events with many of the small ones free.
Port Eliot bows out
It was very sad to hear that this year's Port Eliot Festival will be the last. Started by Catherine St Germans, her husband Perry, the Hamish Hamilton publisher Simon Prosser and Rick Worthy in 2004, it created a blueprint that many others copied. Growing from a first year where only 19 tickets were sold to an event that attracted 8000 people over the weekened it was loved by everyone that attended with many, punters and authors, returning year after year. Here is the complete Saturday line-up from the second year in 2004. Lowest on the bill in the Film Tent was a 'Cloud Lecture by Gavin Pretor-Pinney' this later became his bestselling book The Cloudspotter's Guide. Aisle 16 was the 'poetry boyband' set up by Luke Wright and Ross Sutherland. I think Luke , Simon Munnery and possibly Jim Flint performed at every festival. Jim read a new chapter per festival of a forthoming novel - the world's longest serialisation. Midland was eventually published in January 2019. Anita Pallenberg didn't perform every year but always attended, her home-from-home was the Wardrobe Department, the pioneering fashion area run by Sarah Mower. Huge Advance were a Brit-Pop band featuring the journalist John Harris, the editor Hannah Griffiths, Louise Weiner from Sleeper and (i think) the drummer from Elastica.
Rees-Mogg Pulls Out
Jacob Rees-Mogg has cancelled his appearancane at the Henley Literary Festival (28th Sep - 6th Oct) promoting his book The Victorians — Twelve Titans Who Forged Britain (Penguin). He claimed on twitter that, 'I have been told that I am not allowed to do them by the powers that be'. His book has received some of the worst reviews of the year. Historian Dominic Sandbrook, called it "soul-destroying" and "absolutely abysmal". Founded in 2007, the Henley Literary Festival is a fantastic festival that punches above its weight for the size of town. Guests this year include, Mary Berry, Kate Atkinson, Tim Rice, Nadiya Hussain, Dom Joly, Pru Leith, Jack Straw, Michael Rosen, John Craven, Bryony Gordon and, of course, Melvyn Bragg (has he now appeared at every book festival in the country?)
Cover story
Love and Devotion is a romance book festival that takes place each year in San Diego. The next one is in May 2020 and will feature not just authors but also personal appearances from a number of models that feature on romance book covers. Attendees can have their pictures taken with the models. This is the first time at BookAmp we have heard of something like this at a book festival, but we guess it is not disimilar to Vidcon (see below) 'meet and greets' where people queue to have their photos taken with YouTubers.
VidCon returns to London
VidCon may not be a literary festival but its mixture of personal appearances, panels and the occassional bit of music thrown in is surprisingly close to the lit fest model. The world's largest YouTubers festival returns for the second time to London in February 2020. The U.S version attracts 75,000 attendees. I would estimate the first UK based VidCon last year had more like 10,000 people come along. It was founded by the bestselling authors and YouTubers John and Hank Green and was acquired by Viacom (who own MTV amongst others) in 2018. The majority of the attendees are under 21. And whilst most people are there to meet there favourite YouTubers there is also content aimed at people wanting to become YouTubers themselves and an industry day for everyone that works on the other side of the camera.
And finally..
We really enjoyed this piece on new generation of African Literary Festivals that explains how book fairs aimed at the publishing industry have been superseeded by a new generation of festivals aimed at readers.
Congratulations to Vicky Dawson who has been appointed the new director of the Derby Book Festival.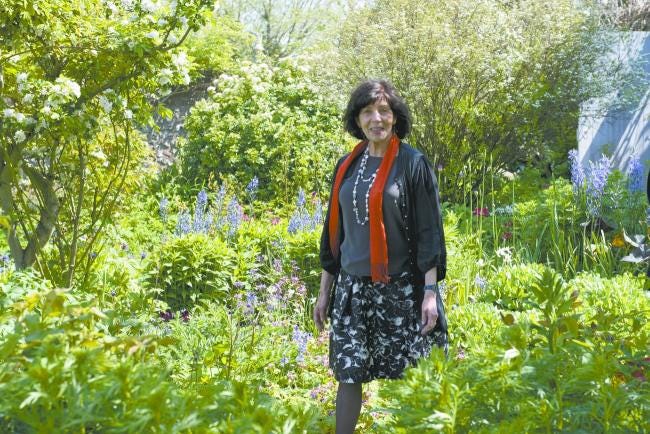 This summer also saw farewells to two titans of the literary festival scene. Diana Reich (picture above), who started the Charleston Festival in Sussex 30 years ago and Christopher Bigsby who has been the Director of the Arthur Miller Institute Autumn Literary Festival for the 27 years.
PLEASE GET IN TOUCH
We would love to be included on your press release list. If you have any news you would like sharing with your fellow literary event organisers please email us..
Julian@bookamp.co.uk or mathew@bookamp.co.uk
BookAmp is…
Mathew Clayton, who runs the Free University of Glastonbury and has previously worked for Brighton Festival and Port Eliot Festival.
Julian Mash who organises the literary tent at the End of the Road festival.
If you would prefer not to receive these emails then please click the link below and apologies for clogging up your in box.