Welcome back! A new year beckons. It used to be that the literary festival season didn't really get under way until the May Bank holiday with Hay but the times are a changin'. January is pretty quiet but in February things start up properly with the Faversham Festival (see image above) that has been building quite a buzz about it over the last couple of years under the directorship of Amanda Dackombe, the old perennial the Jewish Book Week (amazingly in its 67th year!) and one that is new to me The Church Times Festival of Faith and Literature, 'a literary festival with a theological touch'. Based at Bloxley School in Oxfordshire it takes place every two years and looks rather good. I was particularly taken with their author biogs, 'Alan is passionate about justice, Yorkshire cricket, golf, his children and grandchildren, his wife Annie and, of course, the Almighty'.
Some news…
Festival Spat No. 1
A spat broke over Xmas between Bristol's Crime Fest and Harrogate's Old Peculier Crime Writing Festival with the former accusing the later of being predatory by including in their 'special guest' contracts an exclusivity clause that stops authors appearing at other crime festivals that year. Harrogate's rather long-winded response was, "While 95% of authors who take part in the Theakston Old Peculier Crime Festival are not subject to an exclusivity option, for our special guests we make this request at invitation stage to ensure that our offering for both authors and visitors is protected, and this is something which is carefully discussed and considered on an individual basis in conjunction with each author. As a not-for-profit arts charity, rather than a convention or commercial venture, Harrogate International Festivals relies heavily on ticket sales to deliver our year-round literacy development programmes, and our curated offering therefore must be as distinctive as possible, ensuring authors and guests alike enjoy the best possible experience."
Looking at Harrogate's website nine of their 55 events over the weekend are billed as 'special guests' (they have a day's worth of creatve writing events on the Friday which i suppose could push this total up a bit) a little more than the 5% they suggest but I have sympathy for both festivals. When i worked for the Brighton Festival the nearby Charleston Festival (that took place at the same time) had an exclusivity clause in their contracts to deliberately stop us booking the same people - it was annoying but understandable. And it is something that is far more prevelant in the music festival world although there it is often geograpically specific (you can't play for a festival within a 100 miles of this one etc).
Festival Spat No. 2
In a courageous piece for the Guardian, author Ben Myers outlined the mental health challenges he felt when his book came out last year. He then expanded on some of the themes in an interview with the Bookseller complaining of the way: "Writers are, increasingly, expected to be performers, comedians and raconteurs and the simple fact is that this is entirely counter to the writing process, which is introverted and isolationist. The thriving festival circuit also means writers are expected to entertain, even if their true talent lies in writing. I've been at many events where it's evident that everyone is enjoying themselves, except perhaps the writers, some of whom are there under duress. I completely understand why publishers want their writers to be out on the promotional circuit. There is only a small window of opportunity for most books, and this is a business. But many writers become writers because it is their chosen method of communication and to be thrown into a media scrum can be very stressful. There are also practical things to consider: promoting a book for weeks or months on end can be a costly business because you don't get paid for most of it, and most writers have other jobs, they have children to take of etc."
We are great admirers of Ben and welcome him bringing up these topics although i don't wholeheartedly agree with everything he said to the Bookseller. In my experience most authors like the attention. I did when my last book came out (thank you Henley, Cheltenham and Isle of Wight festivals for booking me!). It is also possible to enjoy both the solitary aspects of being an author and the communal ones they arent necessarily in opposition. Only a few major names would spend 'weeks or months' on promotional duties and publishers are normally sensitive to the authors that don't like public speaking. However, i do agree with Ben when he says that festivals pay poorly. When ticket prices were low and tents were small it was justifiable - but now if a festival is selling 400 plus tickets at £15-20 and still paying the author a couple of hundred quid that really isn't right. There is no-one arguing their case - often deals are agreed without the author knowing the size of the venue or the ticket price. This is unfair. Author fees should be directly related to the revenue they bring in (and that works in the opposite direction if they are only selling 30 tickets at £5 then they should be paid a minimal fee). This is a topic i will be going into in more depth in the next newsletter - i would love your opinions. What do you pay? What is the most you have paid? (mine is £2000 for a specially written lecture delivered to 500 people) Do you worry you pay too little or too much? Do you offer travel, accomodation plus a fee or just one lump sum? I am happy for people to speak on or off the record. You can email me: mathew@bookamp.co.uk
Are conferences the new festivals?
Forgive the glib headline but we were intrigued to see that Port Eliot's Catherine St Germans next move has not been to start a new literary festival (as many people suspected) but instead launch the Regen Agricultural Gathering. The first one took place in November on the Boconnoc Estate in Cornwall. Tickets sold out in 24 hours. The next one is planned for the spring of this year. The appeal of a conference format is that the everyone participates (with break-out groups, discussions rather than just speakers etc). You can meet and make friends with other like minded souls - something that is not really possible in a large festival environment where the closest one gets to the speaker is a two minute chat in the signing queue. And they can have a purpose - to effect real change in the world rather than simply flog books. I am sure we will see more events like this in the future and it is great to see Catherine once again blazing a trail.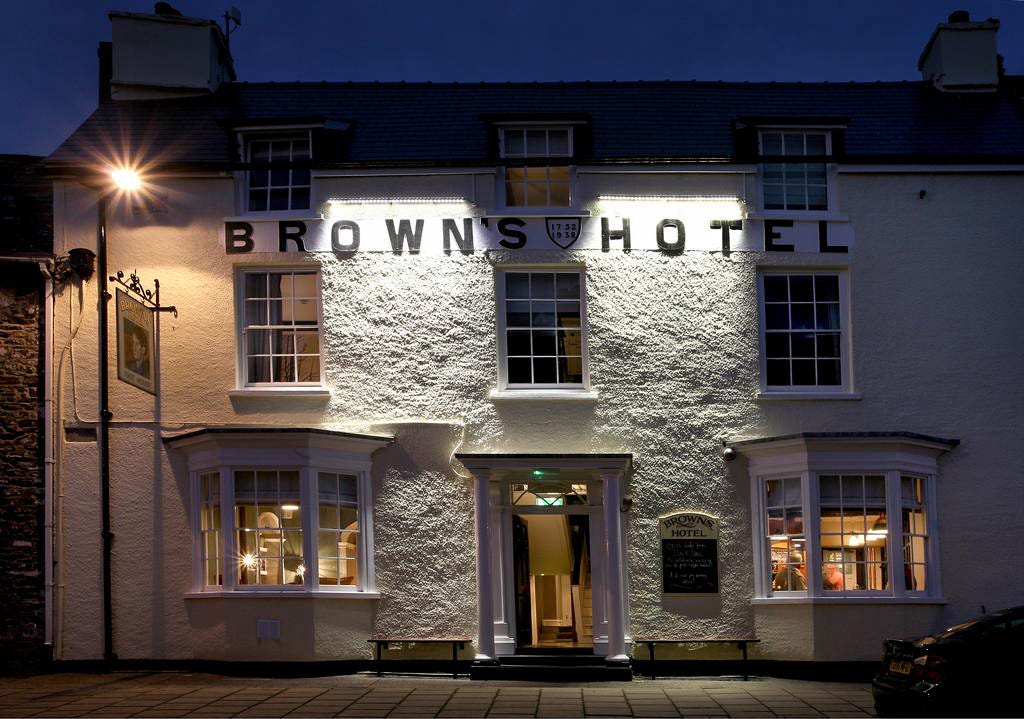 Festivals raising funds
Two high profile festivals are currently running fund raising campaigns. The Laugharne Weekend lost their Arts Council funding worth £20,000 per year and are trying to make up the shortfall. So far they have raised £6k from 86 people with lots of donations from writers including Jon Ronson, David Quantick, Bruce Dessau, David Kynaston, Tibor Fischer, Joe Dunthorne, Stella Duffy, Matt Thorne and Dan Rhodes (you can reward their support by booking them for your festival!). I haven't been but everyone says it is a special event.
Primadonna Festival are also trying to raise £20,000. We heard rumours that they were in talks to link up with another high profile festival but it looks like they are planning on staying completely independent in 2020. They have so far raised £2420 from 22 people. You can donate here.
Both of these campaigns show that fund raising isn't easy. It takes more administration but reward based crowdfunding can be easier - where people buy things (free drink at festival, tea towel, name on poster etc) rather than just asking people to donate cash.
Virtually New Festivals
MYVLF describes itself as is 'a free global virtual literary festival, connecting readers with authors. Our online event space gives readers access to the best of today's literature and fiction from internationally based traditional and independently published authors'. MYVLF are launching new Romance, Historical Fiction and Crime and Thriller festivals in 20020. MYVLF was started by three writers Gwyn GB, Kelly Clayton and Deborah Carr. The precendent for these type of online events are the ones that the brilliant Sam Missingham put on when she worked at Harper Collins.
Jobs Jobs Jobs!
Edinburgh Book Festival have advertised the postion that has become vaanct with Nick Barley leaving. They are looking for a Deputy Programme Director and will pay up to £35k. Closing date is 23rd January. More details here.
Derby Book Festival are looking for a short term Social Media and Marketing Assistant for 60 days work between February to June 2020, pay is £4500. More details here.
Please follow us on twitter and instagram, add us to your press release list and feel free to get in touch if there is anything you would like us to write about mathew@bookamp.co.uk