The Lit Festival Newsletter
As we move from summer to autumn thoughts are inevitably turning to next year, and sadly, it feels like we shouldn't assume in 2021 we will be going back to pre-covid 'normality'. My own particular lit fest gig is running the Free University of Glastonbury, and this week everyone working on the festival got an email from Michael and Emily Eavis instructing us not to start planning (or spending money) on the 2021 festival until the situation has been reviewed in the New Year. I am sure other festivals are also currently thinking this way.
There is, however, still lots going on. If you would like your festival featured in BookAmp please get in touch - we would love to hear your news and plans for the future. My email is mathew@bookamp.co.uk. The newsletter is now read by people working across over 100 festivals - so this is a good way to share ideas and best practice amongst our community.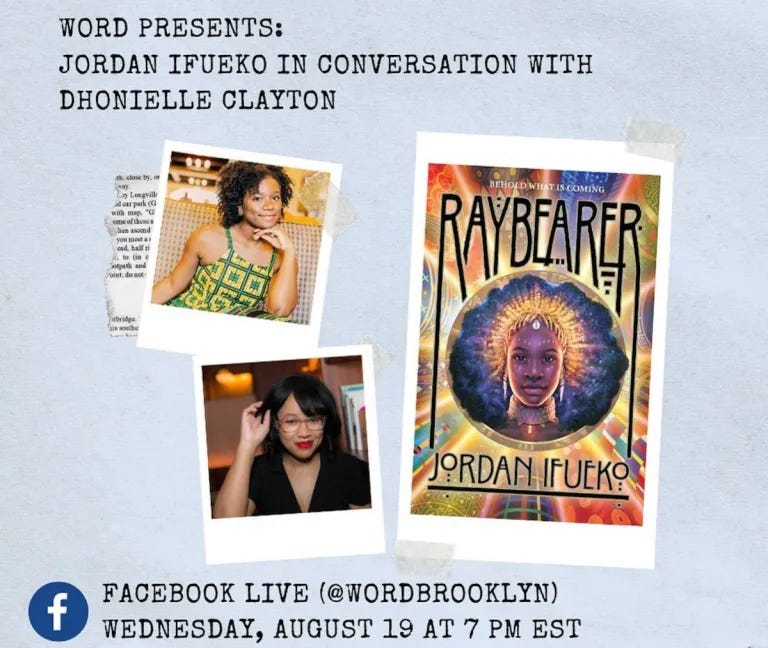 Zoom Bombing
In past newsletters we have talked about the debate around how much control one should have over online events. Should people have to register and buy tickets or just click on a link? The importance of these issues were highlighted at a recent event with debut author Jordan Ifueko and Dhonielle Clayton, hosted by the Word Bookstores, which was targetted by racists who joined the discussion and disrupted it.
The full report of what happened can be found here in the North Brooklyn community magazine Greenpointers.
'According to Word co-owner, Vincent Onorati, a moderator was monitoring the Zoom waiting room and chatroom, with the ability to control guests' microphones and videos, ready to remove anyone disruptive. In a previous Word Zoom event, a disruptive guest had promptly been removed. Wednesday was different, however, as the event was taken over by Zoom bombers, who removed the moderator from the Zoom, and prevented Word from having access to the controls.
Still, the Zoom bombing was not a surprise to the Black authors, who were aware of similar incidents happening over the past few months. "What sucked the most is that both Dhonielle & I told the bookstore we would be targeted by racists. We asked, repeatedly, if the Zoom would be secure & we would be protected. They told us they would handle it, & that we'd be fine. The harassment started as soon as the Zoom did," Jordan Ifueko tweeted.'
The bookstore posted a fullsome apology on their instagram account.
Women's Prize to hold online festival
The Women's Prize for Fiction is hosting a series of digital events around the winner's announcement featuring well-known actors reading from the shortlisted books, plus intimate behind-the-scenes films with the authors themselves. Tickets priced £10 will give you access to four events on 6-8th September. Actors taking part include Ben Miles, Anne-Marie Duff and Coral Peña.

What if no one's going to care about literature anymore?
'The Festival officially announced the cancellation of its 2020 event on March 11. I still can't look at the gigantic spreadsheet with all the authors, sessions, blurbs, and books on it: the representation of eight months of a tiny team's work and planning and vision. It's too sad.'
I missed this when it was published in late March, but it is a fantastic piece of writing by Suzanne Rivecca explaining the conflicting emotions she felt when offered a job working at a literary festival - should she give up her well paid charity job to return to the world of books? It's rare to find anyone writing about working on literary festivals (although the piece is about much more than that) i urge you to read it - the link is in the headline.
Bloody Scotland produce online brochure!
This week Scotland's famous crime writing festival Bloody Scotland announced an impressive line-up for its first digital only festival, but i was struck by the fact that they had gone to trouble of producing an online brochure for the festival covering all the events - just like the printed ones we used to know and love. I haven't seen anyone else do this - but it works really well.
And the biggest digital festival of 2020 is…
Cheltenham has just announced a massive 160 events for its 2020 festival taking place 2-11 October. This dwarves Edinburgh's 91 events and Hay's 83. Even more remarkable is that 100 of them will be taking place in front of a live (socially distanced) audience.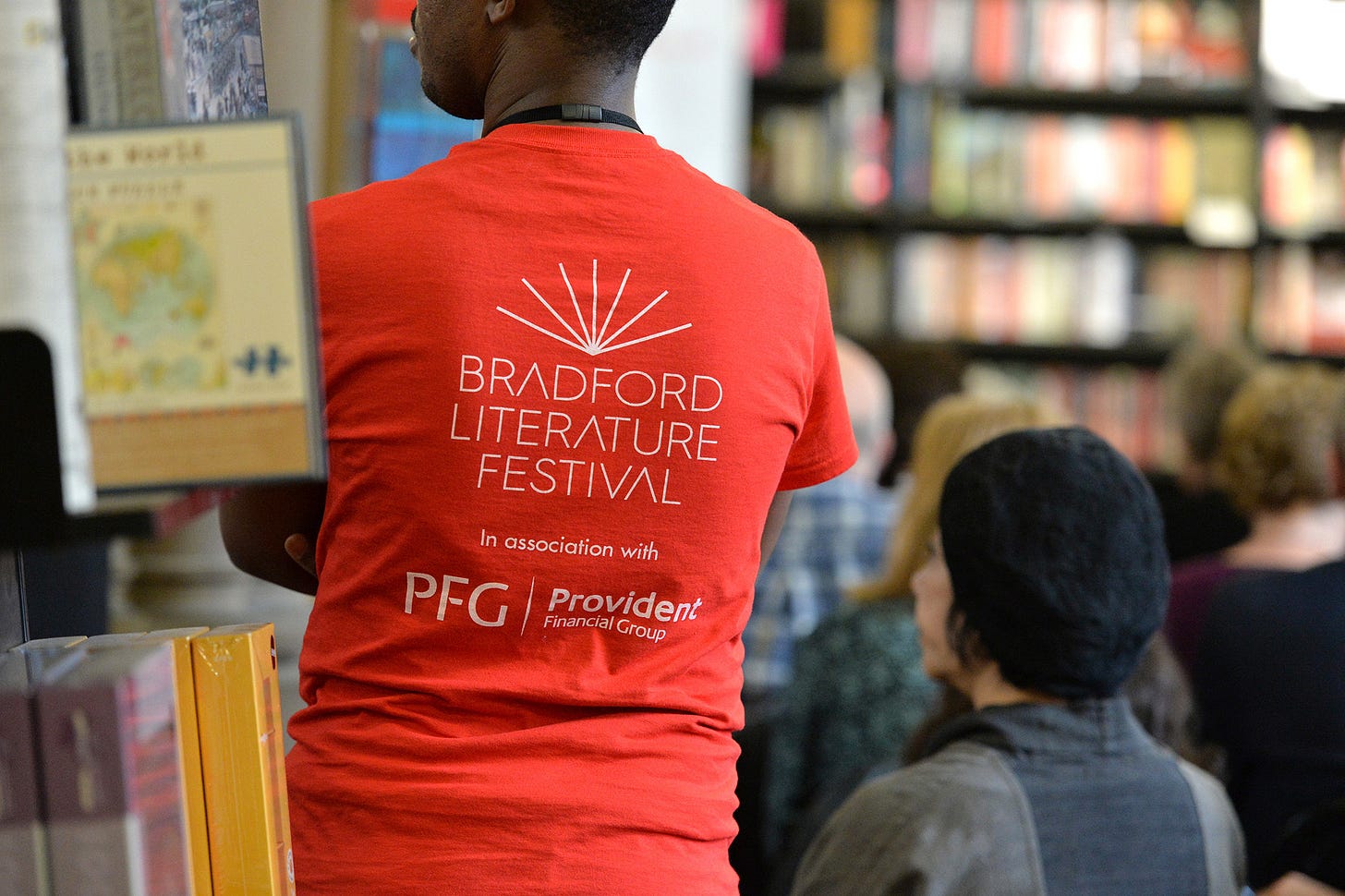 Situations Vacant
1) Derby Book Festival announced that their festival director Vicky Dawson, appointed in September 2019, will be leaving at the end of August. Their executive director Sian Hoyle will take over planning for 2021 with festival manager Gini Smith. Vicky is also the Book Festival Director at Buxton International Festival.
2) The Royal Society of Literature is looking for a full time Events and Outreach Manager, based in London paying £26.5-30k, they will be responsible for their public events (currently online) and their outreach programme. Closing date is September 6th.
3) Manchester City of Literature is looking for a Project Evaluation Consultant, to gather evidence and assess the impact on participants' wellbeing of writing programmes in Manchester and the city region during the COVID-19 pandemic and lockdown.
4) Bradford Literature Festival is looking for a Creative Producer paying £30-40k to work across the festival with an existing Creative Producer and the Festival Director. Closing date is September 4th.
5) Literature Works supports creative writing and reader development across the South West of England they are looking for three new trustees with experience in: Finance, Legal and Business.
That's it for this newsletter. Please follow us on twitter, add us to your press release list. We are always looking for people to interview so please get in touch mathew@bookamp.co.uk if you would like your festival to be featured. And if you know anyone that would enjoy reading this missive please get them to sign up here.