The Lit Fest Newsletter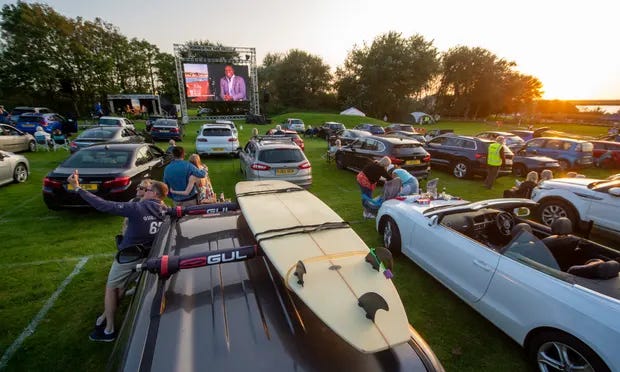 It was great to see a report in the Guardian last week explaining how the small Devon town of Appledore has managed to put on a successful drive-in lit festival. It really highlights the ingenuity of our sector.
Over the last six months there have been hundreds of digital events (and a few real world ones) that have successfully taken place - organised by people who at the beginning of the year had probably never heard of Zoom or Crowdcast. And what's more - the events have all been free. The motivation for all this hard work has simply been to do it for the public good - to provide something for our communities in this most difficult of years. It is pretty remarkable. Well done us!
So this newsletter is slightly different. Instead of the usual collection of news stories i wanted to just have interviews with two inspiring lit fest people each at different stages of their career. Firstly Maria De Souza, who has been involved in the Off The Shelf festival in Sheffield for the last 28 years. My favourite story about her is how she persuaded Nick Hornby to come to the festival by sending him a valentine with an Arsenal Subbuteo player stuck to the front and signed by 'a city full of admirers'. Hornby admitted he couldn't resist coming to the festival once he'd received the card. This year she was presented with the Sarah Nulty Award for Creativity at the Inspirational Women of Sheffield Awards. Our second interview is with Shantel Edwards who in December 2019 was appointed the new Creative Producer at the Birmingham Literary Festival - a difficult time to take over anything. Over to them…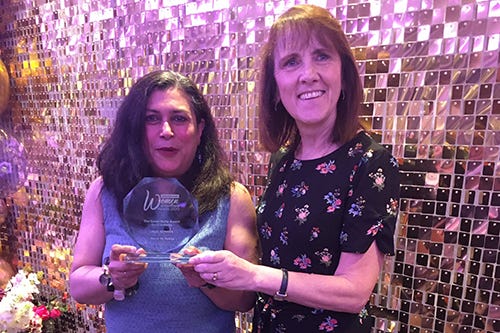 (Maria, on the left, recieving her award early this year)
Maria De Souza
Can you tell readers of BookAmp how you first got involved in literary festivals?
I consider it my good fortune that I chose to study in Sheffield and after my degree worked in Community Arts. Off the Shelf began in 1992 when literature festivals were not as omnipresent as they are now. I was working for Sheffield City Council's 'Arts Department' who were asked to do the programming and so began my involvement in literary festivals. I'd had experience of organising all kinds of arts events from puppets to dance but not specifically literature so it was a learning curve from day one. An avid reader from childhood, I realised early on that this was my dream job!
What are the main differences between when you started doing the job and now?
In the early days the festival was smaller, more local and homespun. We did everything ourselves not just the programming – we used to make our own photocopied tickets and sell them from our office! Off the Shelf is now managed and produced by the University of Sheffield who provide the resources and support needed for a festival that has grown in size and reputation and now attracts big international names. A big difference this year is the challenge to adapt for the pandemic. Most of our programme is digital but we have made a bold decision to keep 14 live events in a physical venue with an actual audience. What hasn't changed through the decades is my enthusiasm for the job.
What is the most rewarding part of the job?
Covid-19 has shown how essential the Arts are to our well-being and quality of life. Our aim is that Off the Shelf offers this quality and enrichment. We're an accessible, diverse festival that caters for a rich mix of literary tastes with events about sport, food, music and popular culture as well as literary heavyweights. We'd like the festival to be irresistible to everyone. It's rewarding when the hard work pays off and our audience like what we produce. It's also great to tangibly demonstrate what a brilliant cultural offer Sheffield has for those who live here and visit.
Do you have any advice for people that are just starting out as programmers?
Read a lot – obviously! Keep up with the trends and what's hot. Know your audience and what works where you are (in Sheffield audiences love politics, nature, music). Be bold. Mix things up. We like to sometimes blend our literature with music, film, projections. Take chances especially with new writers – they need a platform. Commission work. Build good partnerships – collaborative work is exciting. Oh and look after your speakers!
How big a team do you have at Off the Shelf and how many events do you usually deliver?
The University of Sheffield has a strong commitment to support cultural vibrancy, enhance the student experience and make the city a great place for people to live, work and study. Two years ago when Off the Shelf was facing local government austerity cuts, University of Sheffield as a Civic University, came in to support the festival and take on the management and delivery of it and we were delighted to continue our work as programmers under new leadership.We have a core staff of 3, though none of us work full-time on the festival. University colleagues work on events with us plus we get fantastic support from the University Comms team. In 2019 we had over 170 events, but the challenge of the pandemic has meant a smaller festival in 2020. On the plus side it's been eye-opening to see how we can programme online events and include writers overseas who might not otherwise have been able to take part. 
What have been your favourite literary events that you have put on over the years?
That's a hard one to answer. There's been so many amazing writers and thinkers over the years from Hilary Mantel to David Mitchell, Bernardine Evaristo to Stephen Fry. One to remember was Chimamanda Ngozi Adichie who appeared at Off the Shelf (only Northern date) when Americanah was published. From the minute she arrived at Sheffield station in a floor length red coat I was smitten. She is an incredible writer but also a really good speaker. Everyone was bowled over by that event. I must also mention songwriter Edwyn Collins, one of my musical heroes and total crushes from the 1980s. To go from having his poster on my wall to promoting an event with him at the festival where he also performed an acoustic set was one of the best ever days of my life!
What events are you looking forward to in 2020?
I am incredibly proud of the strong, exciting programme the team have pulled together despite the turbulent times. Sheffield poet Helen Mort and filmmaker James Lockey are involved in a project called 'Utterances' working in Care Homes and capturing words of the residents during lockdown. Sheffield writer Desiree Reynolds has curated a strand 'Black Women Write Now' celebrating the work of black women writers with guests including Kit de Waal and Irenosen Okojie. Poet Laureate Simon Armitage has been commissioned to write two new pieces inspired by Ted Hughes and his time in Mexborough. These new poems plus other work will be premiered at  'The Poet Laureate's  Drive-in', an ingenious way of performing poetry safely during Covid. A film of the new work will also be shown for those who cannot make the Drive-In. It might be a smaller festival this year (around 60 events) but the content is still world class.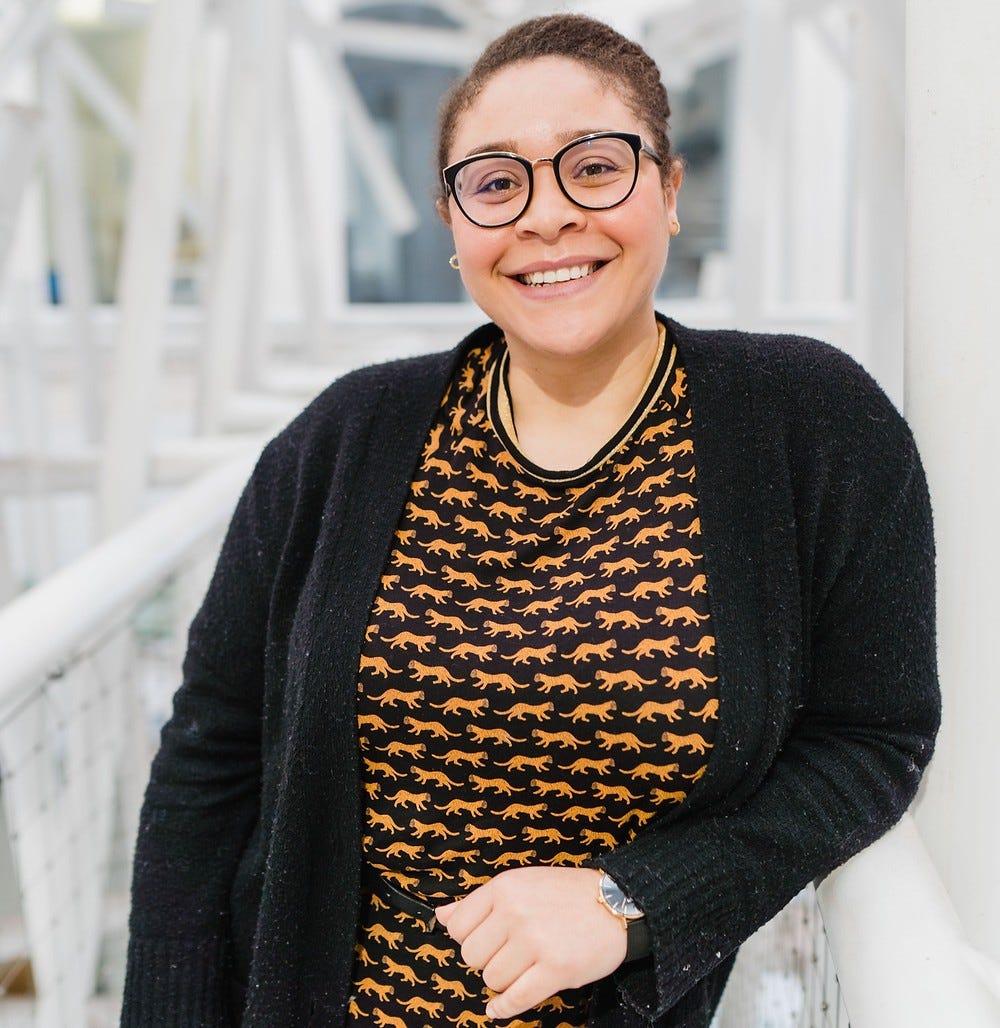 Shantel Edwards
Shantel - this would have been your first festival in charge - what was your pitch? 
It has been a very strange inaugural year! Our plan was always to create a diverse, inclusive line-up that represented the variety of wonderful writers and books we have read this year. We were really disappointed when we realised we wouldn't be able to meet with our audiences and writers at live events, but I think our digital programme really captures the spirit of the wonderful discussions that happen at our festival events.
What do you think that Birmingham does differently to other festivals?
I have been attending Birmingham Lit Festival events for years and have always really loved the way the festival creates space for people to connect and discuss important social issues and ideas through books and am very keen to continue this tradition. Our podcast series and video events this year thoughtfully consider important, topical issues, whilst also joyfully celebrating literature and poetry in a year that has offered us very little to be joyful about. 
How do you reflect the nature of the city in the festival?
I am a proud born and bred Brummie, and as an organisation we're really proud of the amazing writers in the region. We are a very diverse, vibrant and creative city and we were really keen to celebrate that within the festival and showcase the diversity of writing about, and writers from, the Midlands. This year's podcast series was guest curated by Kit de Waal, and the series itself features local poets like Liz Berry, Rupinder Kaur and Romalyn Ante, writers with strong connections to the city like Pete Paphides, Stuart Maconie and Paul Mendez, as well as local artist Cold War Steve.
At what point did you realise that the festival was going to have to go digital? What challenges has that brought?
When we first went into lockdown in March, we were hopeful that the festival could still go ahead as planned. By June, however, we had made the decision to move online as social distancing measures, and the continued closure of many of the venues we use in the city centre, seemed unlikely to change by October. This is the first time as an organisation that we have delivered so much of our work and programme online, so it has been a learning curve, but we're all pretty good at Zoom at this point! The silver lining of recording events remotely is that we have been able to facilitate discussions between writers from across the UK and Europe and events that readers and writers across the world can participate in.
Is there a reason you have some events taking place on Zoom and some on Crowdcast? 
Our main festival programme is actually our podcast series, the Birmingham Lit Fest presents... podcast, which launches on Friday 2nd October (with episodes landing weekly on Thursdays after that) which is available through all the regular podcast channels. We have programmed some online video events in collaboration with Nine Arches Poetry Press (Zoom) to celebrate National Poetry Day and the Durham Book Festival (Crowdcast), more details of which can be found on our website here: https://www.birminghamliteraturefestival.org
Could you explain a little bit about the Staying Human project?
We've teamed up with the six other Regional Literature Development Agencies to celebrate poetry across October, selecting 31 poems from the new Bloodaxe anthology, Staying Human, read by readers from across the UK. We'll be sharing the recordings each day on our social media - @bhamlitfest - and we'll be adding the collection of readings to a Soundcloud playlist here. 
When should publishers start pitching to you for next year's festival?
Anytime after October would be wonderful!
That's it for this newsletter. Please follow us on twitter, and add us to your press release list. We are always looking for people to interview so please get in touch mathew@bookamp.co.uk if you would like your festival to be featured. And if you know anyone that would enjoy reading this missive please get them to sign up here.