The Lit Fest Newsletter
In this week's newsletter…
The Rule of Six - latest government advice

Festival Focus - Durham Literary Festival

Edinburgh Reveal Numbers

Stroud Success - Gloucestershire hits crowdfunding target

Devolve to Evolve - New Fabian Society report into arts funding
Rule of Six
This week saw the government announce new Covid 19 rules limiting social groups to 6 people. However it seems that events with larger groups are still allowed as long as they follow the Covid 19 secure guidelines. These include avoiding interaction with anyone outside the group you are with, 'even if you see other people you know' (something that happens frequently at festivals!)
They also said that they will be scaling down their plans to pilot larger audiences in venues this month and that these will not take place in areas where incidence is high. A further announcement around audiences in stadia and conferences centres will be made on October 1.
Andrew Lloyd Webber spoke to MPs on the digital, culture, media and sport committee, this week warning that the arts sector was 'on the point of no return'. He also said he had been trialling measures at the London Palladium that he believed could be followed by other venues. Fane Productions are promoting three live events at London Palladium in the next few weeks - Graham Nortone, the podcaster Elizabeth Day and Ranulph Fiennes.
Boris Johnson's also announced his 'moonshot' plan to introduce rapid mass testing, whereby people would be issued with a 'freedom pass' that would would allow them entry into venues if they had been given the all clear. This potentially could be a game changed for the events business. But it has been met with a fair share of scepticism over whether its goals are achievable in the short or medium term…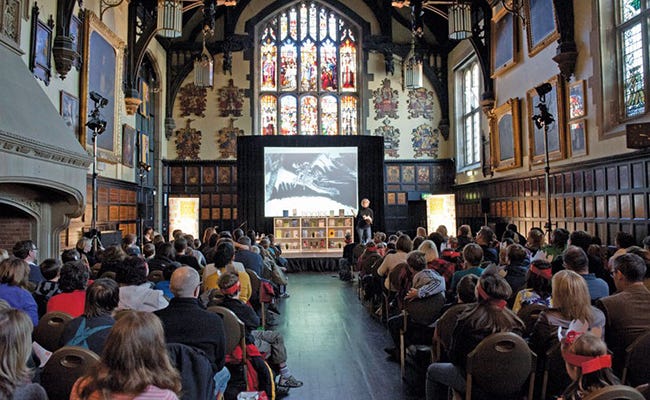 Festival Focus - Durham Book Festival, 9-18th October 2020
I am delighted that Laura Fraine and Rebecca Wilkie from the Durham Book Festival have helped answer a few questions.
Could you explain a little bit about the festival's history? It is interesting that the event is 'owned' by Durham Council and run on their behalf by the brilliant New Writing North. How did that come about?
New Writing North were first commissioned by Durham County Council to produce the festival in 2011. We're funded by Arts Council England as the literature development agency for the North of England and Durham Book Festival is one of our biggest flagship projects. The book festival forms part of a portfolio of festivals funded by Durham County Council and Arts Council England– we're lucky to work with a local authority with such a commitment to arts and culture. The festival is also funded by Durham University and we regularly draw upon the expertise of many of their brilliant researchers in our events.
The festival is going digital this year? When did you take the decision to do this and what have been the ramifications?
We took the decision to move the festival online quite early on in lockdown. It became apparent to us by the end of April that live events were going to be problematic for the next few months at least. We surveyed our audience twice and the feedback we received showed us very clearly that the majority of people did not feel comfortable going into venues. We're a small team at New Writing North, so taking the decision to programme and produce a digital festival entirely in-house was ambitious. It's been hard work and a steep learning curve but we've all supported each other. We're offering our content for free, so we won't have our usual box office income to sustain us. Support from our funders has made it possible to go ahead using this model this year but it's not sustainable for us long-term.
The festival also incorporates the announcement of the Gordon Burn Prize? Could you explain how that works?
We'll be announcing the Gordon Burn Prize online on 15 October, we're sad not to have our usual ceremony at the festival, but are glad we can still celebrate the brilliant shortlist online. We'll be pre-recording readings from the shortlisted authors; we usually incorporate a performance into the award event and this year Judge Anthony Anaxagorou will perform his poetry.
And the festival is notable for its original commissions. What have been the highlights from previous years and what are your plans for this in 2020?
Commissions are at the heart of the festival programme each year and in the past have ranged from a ballet written by Carol Ann Duffy to David Olusoga reflecting on his experiences growing up  Black in the North East. This year we've worked with English PEN to commission Fatima Bhutto to write an incredible piece inspired by PEN's Women's Manifesto, we've asked DBC Pierre to write about his strong family connection to Durham, Lisette Auton has written and produced a film which sheds light on the disabled community and their experiences – 25% of people in the North East are disabled – why do they not take up that cultural space? Finally, we can't welcome people to Durham in person this year,  so we've created a literary-themed guided walk around the city.
How are you adapting your other initiatives? The Big Read, the festival laureate, the Fringe etc?
We're delighted that we can go ahead with both our Big and Little Read initiatives this year. The Big Read is a specially commissioned short story from Ann Cleeves, it's set in Durham Book Festival and stars fictional detective Vera Stanhope. We're gifting 4000 copies of the short story to people all the county via Durham's library service and there will be an e-book version available too. Ann's publisher Pan Macmillan have sponsored the production of Written in Blood - we're grateful to them and to Ann for their support. Our Little Read which goes out to every primary and nursery setting in County Durham as well as to childminders and looked after children, is Greta and the Giants by Zoe Tucker and Zoe Persico. This gorgeous picture book re-tells the story of Great Thunberg for very young children and inspires them to believe no one is too small to make a difference. We've created a host digital resources to accompany the book for schools and families.
How do you think the 2020 festival will influence future festivals? Will you increase your digital offering in the future?
It's been fantastic to connect with international authors including, Jenny Offill, Britt Bennett and Lily King – working digitally has made this affordable and more environmentally friendly. We also know that digital content provides more opportunities for disabled audience and artists to connect with us.  Although we miss the buzz of live events, I think we'll keep a digital thread of programming in years to come.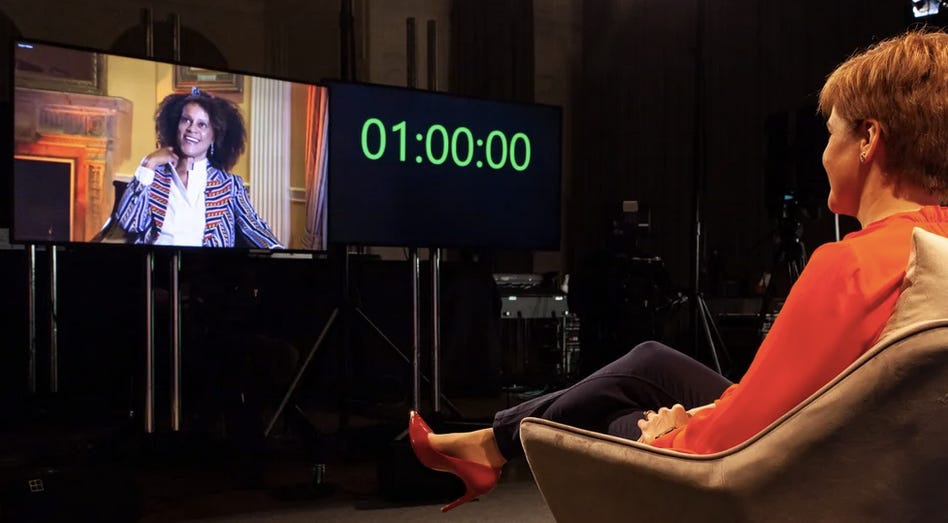 Edinburgh Numbers
Edinburgh Book Festival announced that its 146 events had 210,000 views. The most popular events were Bernadine Evaristo interviewed by Nicola Sturgeon with 16,220 views, Hilary Mantel with 10,235 and Ian Rankin with 9,304. Their online bookshop sold 2250 books.
(This compares with 490,000 streams for the Hay Festival).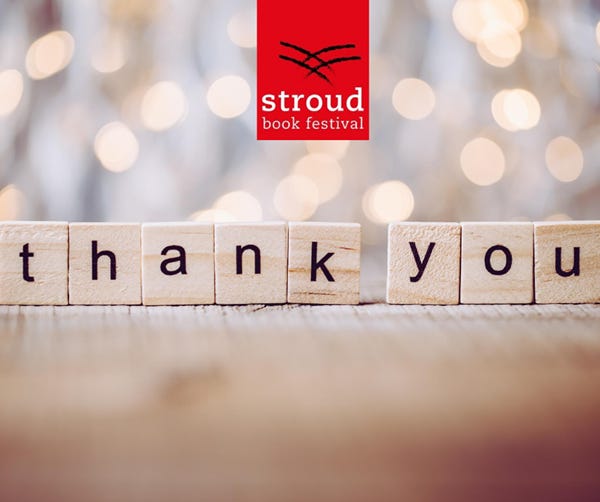 Stroud Success - Gloucestershire hits crowdfunding target
Stroud Book Festival has announced that it has raised £10,000 to meet its crowdfunding campaign. The fundraising campaign, which ran for 6 weeks over the summer and ended on 31st August, was launched to help make the Stroud Book Festival 2020 online programme of events free. The campaign had 200 supporters, including the Laura Kinsella Foundation that donated £2000. The festival takes place 4-8 November with authors including Joanna Trollope, Kei Miller, Raynor Winn, Rachel Joyce; Jonathon Porritt, Cath Kidston, and Dara McAnulty.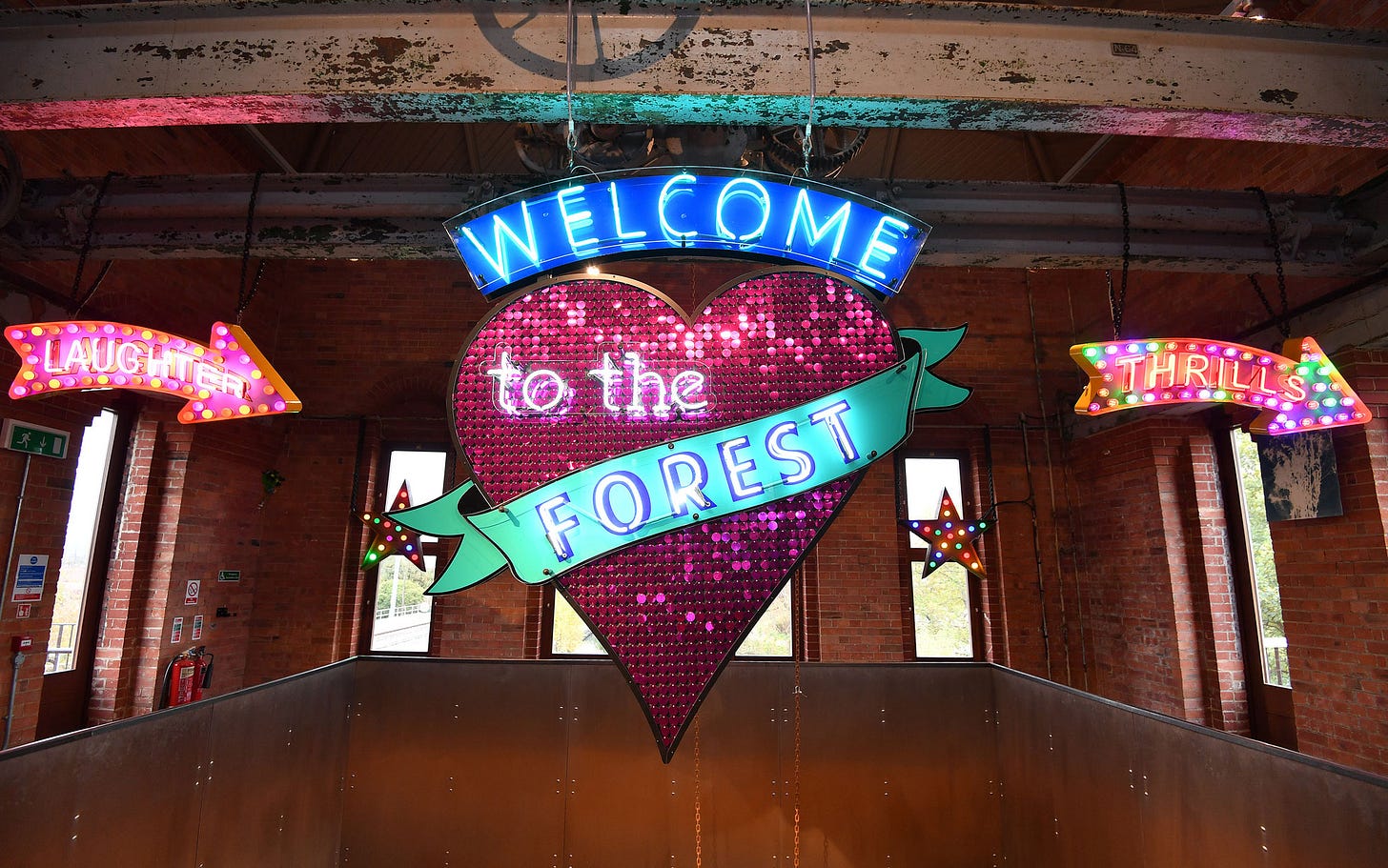 Devolve to Evolve - New Fabian Society report into arts funding
A report from the Fabian society Cultured Communities revealed that local arts funding is 38.5% lower than it was in 2009. This represents more than £860m in real terms cut from annual council spending on arts and culture – a reduction of £18.66 per person. It also criticises Arts Council England stating that they fail to treat places equally with 41.4% of their National Portfolio Organisations (the ones that get most money) based in London. Their recommendations included central government devolving more responsibilty locally, that councils should purchase and re-purpose high street properties for the arts and that councils should commit to a charter for effective local government support for the arts.
It is also worth noting that, since July, the Arts Council National Lottery Project Grants fund has re-opened. You can apply here.
Over and Out..
That's it for this newsletter. Please follow us on twitter, and add us to your press release list. We are always looking for people to interview so please get in touch mathew@bookamp.co.uk if you would like your festival to be featured. And if you know anyone that would enjoy reading this missive please get them to sign up here.
(N.B. i am also delighted to have got through a newsletter without mispelling Annie Ashworth's name.)