BookAmp No.2
The newsletter for literary event organisers
Cheltenham celebrates its 70th Birthday
Started by the nature writer John Moore in 1949, Cheltenham is Britain's oldest literary festival. Selling over 100,000 tickets each year it is now one of the Big Three along with Hay and Edinburgh. Pictured is John Moore with the writers Edna O'Brien (left) and Elizabeth Jane Howard who he appointed as the festival's artistic director in 1962. She brought in the festival's first ever media partner the Sunday Telegraph - which funded trips to Cheltenham from the American writers Joseph Heller and Carson McCullers amongst other. She also rented a house in the town so she could personally host her guests.
As part of its 70th birthday celebrations they asked 70 literary festival's around the world to recommend a book that should be on everyone's shelves. Amongst some very worthy suggestions we were amused to notice that the fantastic Wigtown Festival's suggestion was the most excellent The Diary of a Bookseller by Shaun Bythell (one of the organisers of said festival).
Our favourite act on the Cheltenham bill were our friends Litwitchure who conduct literary tarot readings with authors. They have performed at Green Man, Port Eliot and a number of other festivals interviewing people like Nina Stibbe and Luke Turner.
p.s. if anyone has pictures from festivals past we would love to see and share them. Email us: mathew@bookamp.co.uk or hit us up on twitter or instagram
Deer Shed Podcast Social Club
The last couple of years have seen an explosion of bookings for live podcast recordings at festivals. Deer Shed have taken this a step further and are organising a podcast festival on 22-23 November at Rural Arts in Thirsk. There are 27 podcasts featured over the two days including Robin Ince's Bookshambles and the Break-Up Monolgues. Tickets are per event not per weekend.
Deer Shed is a family friendly festival with a capacity of 10,000 that has run for the last ten years in Baldersby Park, North Yorkshire. It features a balance of music, comedy and literary events with an emphasis on kids participation.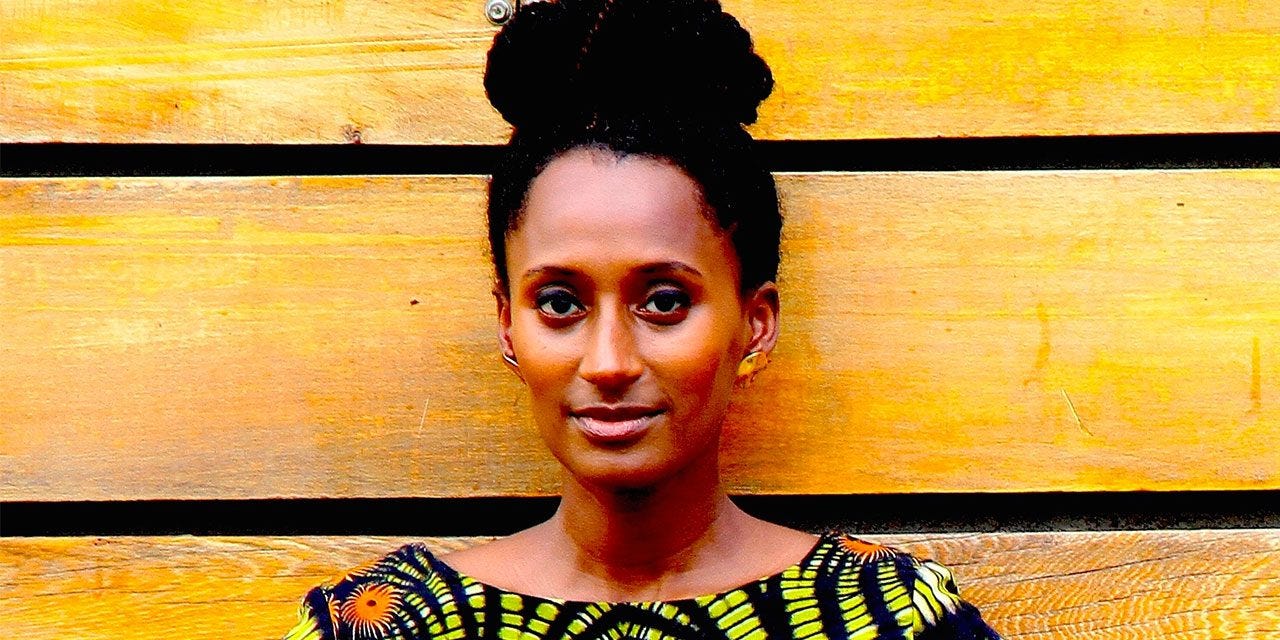 Tottenham Literary Festival debuts
The brilliant Hannah Azieb Pool is launching a new festival at the Bernie Grant Arts Centre where she is Artistic Director this November 1-9. Highlighting work from Black writers and championing diverse children's literature Hannah said, ' The inaugural Tottenham Literature Festival will celebrate the power of literature to transform lives. Black communities have a rich history and culture of literature through storytelling, written and spoken word, music and song. It's an honour to create a space to celebrate and showcase this, here in Tottenham at the Bernie Grant Arts Centre.' We wish Hannah and the festival every success.
Small Wonders No1: Fitzcaraldo Editions
Our new, but soon to be regular, feature on small but perfectly formed publishers…
It was heartening to see Fitzcarraldo Editions author Olga Tokarczuk win the Nobel prize this week (in addiotn to her 2018 Man Booker International Prize). This was the second Nobel for this small independent literary house. They publish mainly translated works and focus on 'ambitious, imaginative and innovative writing'. Founded in 2014, their book jackets designed by Ray O'Meara sport a distinctive blue and white livery. If you are looking for interesting hi-brow oversease authors then it worth looking at their catalogue here.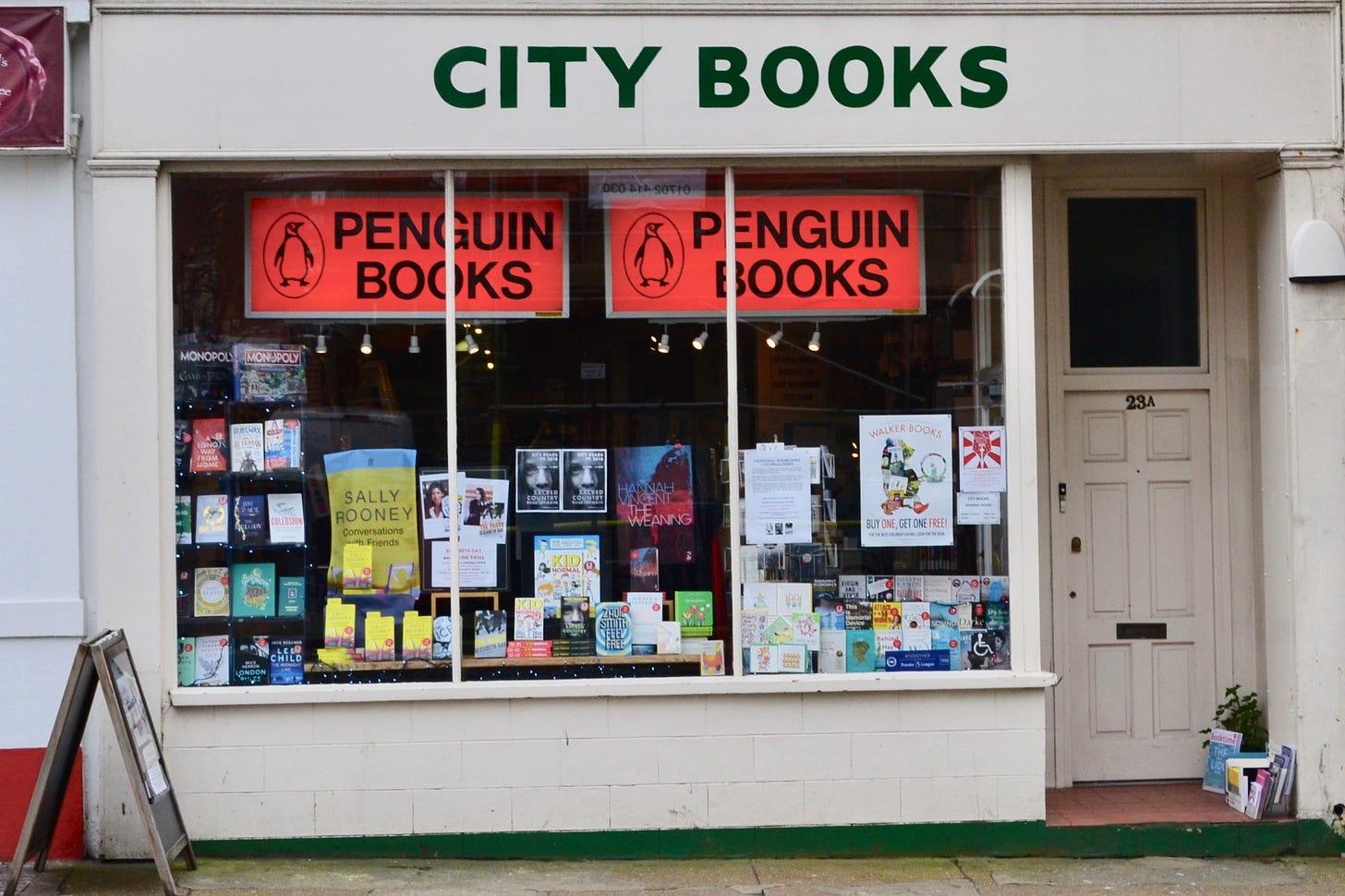 Meet the Programmer: Paul Sweetman, City Books, Hove
Founded and run by Paul and Inge Sweetman, the shop is on Western Road, in the Brunswick area of Brighton and Hove, right in the centre of the city (and have two wonderful vintage Penguin signs in the window which we covert). City Books organise regular literary evenings. Guest speakers have included Ranulph Fiennes, Simon Callow, John Simpson, Robert Winston, Vic Reeves, Nick Cave, Will Self, Ian Rankin, Sir John Mortimer, Sarah Dunant, Will Hutton, Iain M Banks, Grayson Perry, Alexander McCall Smith, Peter James, Jamie Oliver, Rick Stein, Tony Benn, Caitlin Moran and many, many more. Paul answered our questions below...
Where do you hold your events? How many can you accommodate? We hold our events in several different venues. The most people we have had is 1,800.

How often do you programme events? Roughly 20 a year.

How do you decide what to put on? A matter of instinct and experience. Sometimes the less promising events can be the best.

One piece of advice for aspiring literary programmers? Start small and build from there.

What do you have coming up? We have a Children's Festival in November, with lots of events for children, and two for adults - Stuart Heritage and Michael Rosen. We also have Will Self on the 15th and Andre Aciman on the 28th, both November too.

Do panel events work or you prefer in conversation events? Not at all keen on panels, prefer in conversation or solo.

How far in advance to you book events? Varies. Sometimes only a week or so but generally a couple of months in advance or more.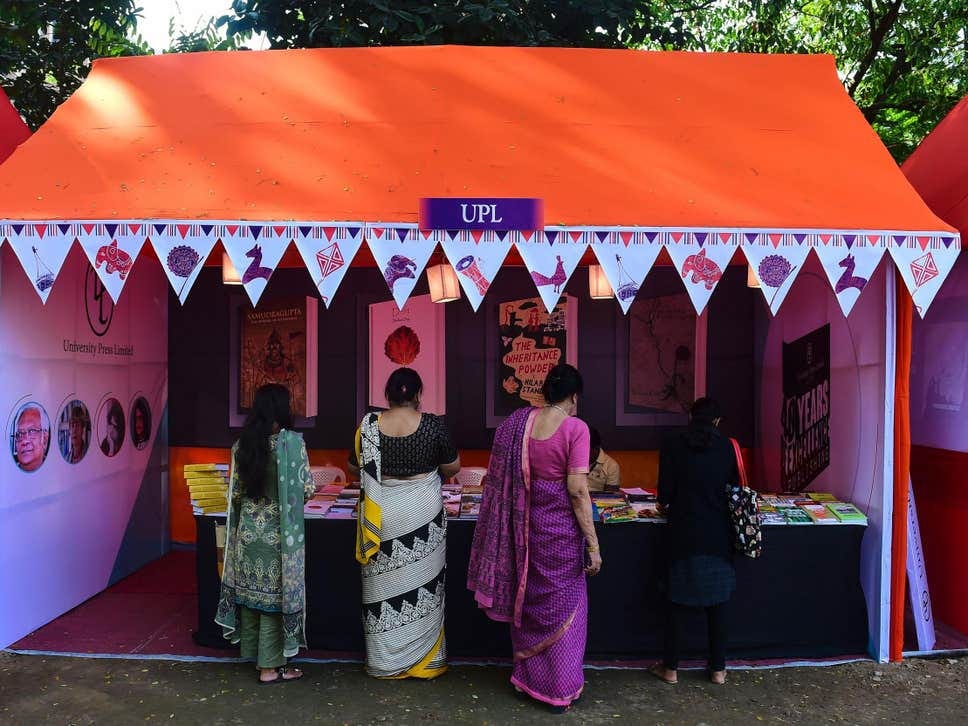 Further reading…
This piece in the Independent by Ed Cumming, Dhaka: where a literary festival can still make a difference is really worth reading. 'The DLF is free to attend, and heavily oversubscribed, with more than 30,000 people visiting over three days last year, most of them young'.
Festival Director Job
Writing West Midlands are looking for an enthusiastic, innovative and hard-working individual to join their small team as Creative Producer / Festival Director.
Hours: 3 days/week (hours are flexible including some evenings and weekends – time off in lieu will be given)
Office Base: Birmingham, UK
Salary: £28 – £30,000 pro rata dependent on experience
Start Date: (ideally) Late November 2019
Deadline for applications: Thursday 17 October, 5pm
Spread the Word
If you know anyone else that would be interested in the receiving this newsletter please pass it on. As we said in the last issue we are a small, passionate community of organisers that are spread far and wide - our mission is simply to help us all feel a bit more connected. If there anything you would like covered please get in touch julian@bookamp.co.uk or mathew@bookamp.co.uk. You can follow us on twitter and instagram. And we would really love to see some images of festivals past!