Book Amp No.5
For literary event organisers
So that's it folks! The 2019 festival season has now officially come to a close. It is fitting that the final festival of the year was the Words Weekend at the Sage in Newcastle - a big, bold new production from Fane.
And whilst we will forever mourn the loss of Port Eliot there have been exciting new festivals announced throughout the year. Just last week we saw former Harper Collins boss Victoria Barnsley launching a The Brideshead Festival at her country pile Castle Howard.
It isn't just in this country that the festival scene is expanding. At the start of December the inaugral Rainbow Festival took place in Delhi, India's fourth LGBT books festival after Kolkata, Chennai and Lucknow (homosexuality only became legal in India in 2018). Literary events play an important role in shaping national conversations all over the world - in 2020 we will be needed more than ever.
We hope everyone has a wonderful Christmas, thanks for all your kind words and support - we will be launching the BookAmp website in the New Year. Please carry on emailing us programme annoucements, press releases etc: mathew@bookamp.co.uk.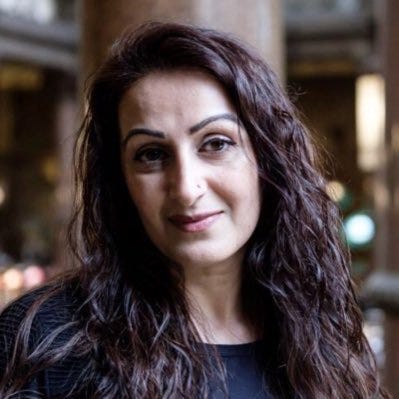 The Bookseller's 150
It was great to see Syima Aslam the director ot the Bradford Literary Festival in the the Bookseller's list of the 150 most important people in publishing. The festival, only five years old, has been amazing success growing from two to ten days and now hosts over 400 events. Authors have told me it is their favourite festival to visit and have been full of praise for Syima.
Also new on the list this year was the Director of the Cheltenham Festival, Nicola Tuxworth who admirably led its 70th birthday celebrations this year. There were two other festivalers on the list; Nick Barley from Edinburgh and Peter Florence from Hay.
Gulliver's Travels
It was announced this week that Roland Gulliver, the associate director of the Edinburgh Book Festival is leaving his post after 13 years to take up, 'an exciting new role' elsewhere. Gulliver was responsible for the graphic novel strand Stripped, their free events programme Unbound and a number of outside programme partnerships. We look forward to hearing what Roland has planned next.
Chortle Comedy Book Festival
This is a book festival produced by the comedy website Chortle that takes place in the British Library with a great line-up that includes Adam Kay, The Guilty Feminist and Jonathan Coe. It only lasts one day (19th January) so cannot be a massive revenue earner but interesting to see a website organising something like this - and comedy books definitely deserve more attention.
360?
Condé Naste boss Nicholas Coleridge wrote a nice little piece on festivals in Spears magazine. He mentions that there are 360 literary festivals in the UK, this is an oft repeated figure, but we have been compiling a database of all the UK festivals and i can assure you there aren't that many. We hope to have a definitive number in the New Year. He declares his favourite to be The Stuckeridge Lit Fest in Devon, the brand new Upton Cressett festival in Shropshire and the Clivenden Festival.
'I am spending all of October and half of November on the literary festivals circuit, regularly doing four or more talks a week. You can become heartily sick of the sound of your own voice, telling the same anecdotes over and over. But as a way of seeing Britain, criss-crossing the country, nothing beats it. You feel like a travelling salesman, which indeed you are, promoting and selling your new book, measuring the success of each talk by the number of copies sold.
The worst thing is when a acquaintance looms up in the middle of a long line of book buyers, asking for a dedication and signature. Who is this? Your mind goes blank. 'Just make it out to me,' she trills. Excruciating embarrassment. 'Remind me how you spell your name.' She looks surprised. 'E-M-M-A.' 'Of course… no H on the end,' I reply'.
Please follow us on twitter and instagram. And please pass on the newsletter to anyone you think would enjoy it. See you all in the NEW YEAR.